by rnn.yqe. on Feb.03, 2019, under Games Online
ManagerZone, usually abbreviated as MZ, is a free football manager game developed and published by the Swedish-based company, Power Challenge AB. Launched in 2001, ManagerZone is one of the oldest MMOs with a massive audience of about 800,000 members from 99 countries.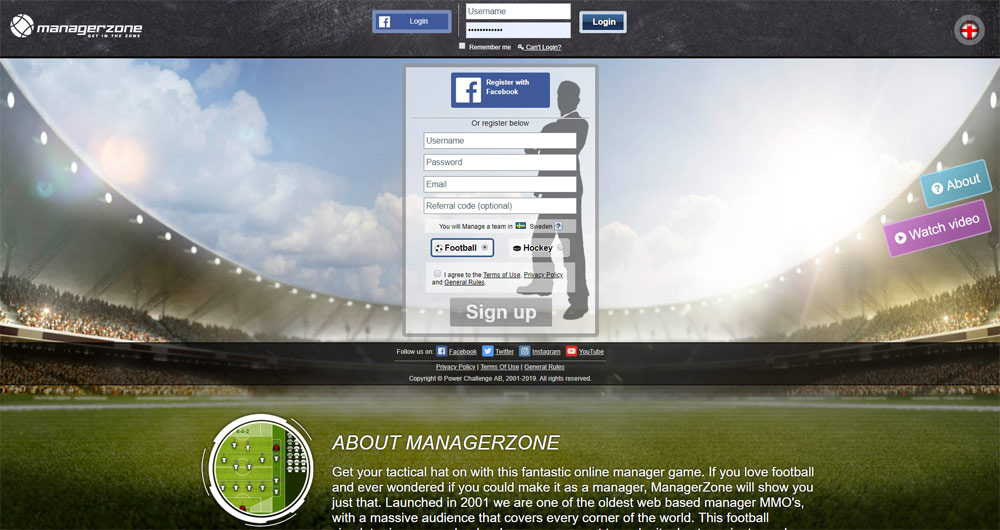 Game Concept
ManagerZone members fully manage a virtual professional football club. Each member is provided with a team of 19 players placed in the lowest league, a budget of £240,000 and a stadium that can seat 2,000 people. Members are required to win matches and climb to higher leagues.
The different manageable aspects of the game are the finances, tactics, training camps, training, stadium and the calendar (friendly matches).
Team Economy
Each manager's team generates income through local matches, the sale of players and prizes awarded after finishing in a certain place in a league. Expenses are discounted every Friday night and include the salary of coaches and players, maintenance of the stadium, and purchase of players to name a few.
League System
ManagerZone uses a pyramidal league system that's based on the existing English football league system. Each country has a different pyramid with a league that has 12 teams, playing against each other twice in one season. A season lasts one quarter (13 weeks) and has 22 matches that are played every Wednesday and Sunday.
After each season, the top team in each league is awarded a trophy and is promoted to the next league.
Competitions
The football manager game runs a number of cup competitions throughout a season. Users can buy a place in the competition at the cost of £1 or equivalent. Another competition available in the game is the friendly league which is created by a manager on an invite-only basis. The manager can include up to 16 teams and costs £1 or equivalent to join. ManagerZone also hosts an international football competition, the ManagerZone World Cup, which is held yearly.